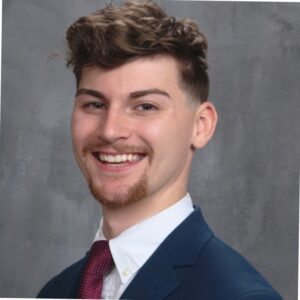 Adam Haas, or Ad for short, is an enthusiastic administrative caregiver within the Head and Neck Institute at the Cleveland Clinic, an Analyst in the consulting field with a focus on strategic planning and mentorship and is also a freelance speaker. While working at the Head and Neck Institute at Cleveland Clinic, Adam met Project Alive's Vice President, Kyle Underwood. They became the closest of friends right away. Adam's interest in MPS II and rare disease as a whole quickly grew as Kyle shared his story as someone diagnosed with Hunter syndrome. Adam is now a fierce advocate and ally. He and Kyle have begun accepting speaking engagements to discuss the importance of allies within the rare disease space. He now hopes to have more of an impact as a Project Alive board member.
"Project Alive's mission of being a voice for our community depends greatly on our rare disease allies who fight for a cure each day. We are thrilled to add Adam C. Haas to our board, who not only is a true ally, but a great friend and demonstrates the impact we can all make in driving change, no matter our story. Adam will bring a wealth of knowledge and insights to the table, and I know that our impact will continue to grow with his involvement,"
stated Kyle Underwood, Vice President, Project Alive.
"It is exciting to see Project Alive's board grow in numbers and diversity. Our board has historically been made up of primarily parents with children diagnosed with MPS II. They paved the way for all of the organization's success. Since 2022, we have been able to add exciting new perspectives with an adult with MPS II and a sibling to a young man with MPS II. With the introduction of Adam, we now have a passionate friend and ally. Adam is a great example of how our friends can become part of our community too. We are all stronger in numbers. It is wonderful to see someone like Adam jump into this world to make a difference, a world that those affected never expected to be in. I look forward to seeing the great work Adam will do alongside Project Alive," said Kristin McKay, Executive Director, Project Alive.
Adam is a Kent State University graduate, with an undergraduate degree in Business Management, associate degree in liberal arts and Minors in Healthcare Services Administration and Healthcare Systems Management. Carrying two years of administrative experience at the Cleveland Clinic Akron General Emergency Department and now the Main Campus, Adam is now pursuing further education to obtain a master's in business administration, with a Healthcare Management Focus at Case Western Reserve University come August 2023. He also serves on the early-careerist committee of the local ACHE Chapter of Northeast Ohio and supports marketing as well as engagement with the local higher education programs. During his free time, he has a dedication toward dog show handling, showing, and training the dog breed of the German Shorthair Pointers.
Adam Haas will join current board members: Cory Blain, Mario and Jen Estevez, Julie and Dave Ferullo, Nathan Grant, Jeanette Henriquez, Andrew Hoffman, Kristin McKay, Sarah Mitchell, Jon Muedder, Aywon Nguyen, Kim Stephens, and Kyle Underwood.