Cyclists on a 1200-mile journey across four states finish their trek on Sunday in Ft Lauderdale. They embarked upon the ride in Charlotte, NC, on Oct. 20 to raise awareness of and funds for Hunter syndrome and Project Alive, cycling through North Carolina, South Carolina, Georgia and Florida.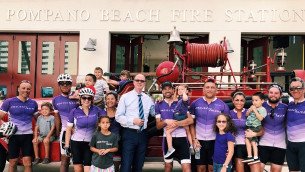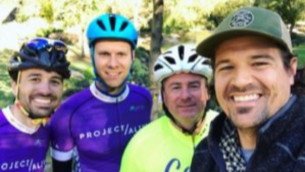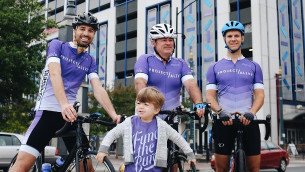 Just prior to starting in Charlotte, NC, the effort received a big boost from Petland, a Florida based pet store chain, with a $20,000 sponsorship donation. Three days into the ride, they had already raised $35,673. As the cyclists approach Ft. Lauderdale, they are reaching $40,000.
Josh Bickerstaff organized Ride for Project Alive to help his long-time friends Allison and Jon Muedder. The three have been friends since college. Bickerstaff has known their son, Finn, since the day he was born. He watched as Finn was diagnosed with Hunter syndrome as a toddler. Finn was there in Charlotte to send Bickerstaff and two others off on the journey. Finn and his family will be waiting for him in Ft. Lauderdale on Sunday.
Hunter syndrome is a rare, genetic condition resulting in the lack of the enzyme iduronate-2 sulfatase. Without that enzyme, cellular waste builds up throughout the body and causes progressive loss of physical, and in most cases, mental function. Life expectancy for boys with Hunter syndrome is early teens. The Muedders are board members of the grass-roots organization Project Alive, which aims to fund research and find a cure for Hunter syndrome.
Bickerstaff cycled the entire distance while other people joined in for different segments and on the weekends. Cyclist David Butler traveled all the way from Lufkin, Texas to join the ride between Charlotte and Greenville. Butler participated to support his coworker Dee Ann Gaston and her son, Connal, recently diagnosed with Hunter syndrome. David and his coworkers raised $2,000 through the ride. Project Alive board members and Hunter syndrome parents Mario and Jenn Estevez will participate in the last leg of the ride from Fort Myers to Fort Lauderdale as will Florida Gulf Coast University faculty member Courtney Satkoski, whose Civic Engagement students started Hunting for a Cure, Inc. to benefit Project Alive.
The ride will end Sunday with the last leg from FGSU to Ft. Lauderdale ending at the Pompano Beach Fire Rescue Station 11 located at 109 N. Ocean Blvd, Pompano Beach, FL 33062.