Back To All Press
Project Alive Welcomes New Board Members and the Addition of Kyle Underwood as VP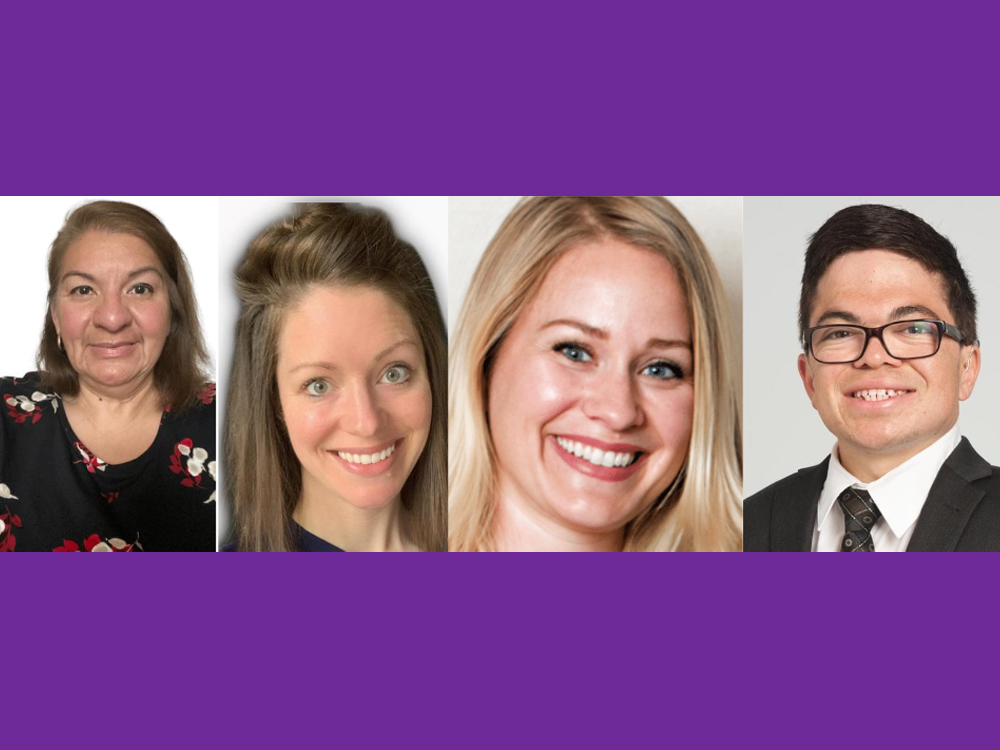 February 7th, 2023
Project Alive, a Hunter syndrome research and advocacy non-profit organization, is thrilled to announce the new additions to the 2023 Board of Directors along with a new Vice President. The newly elected board members are Jeanette Henriquez, Cory Blain, and returning board member, Jennifer Hanebury-Estevez. Current board member, Kyle Underwood was elected Vice President at the start of the year.
"We are very fortunate to have such enthusiastic additions to our board this year. Both Jeanette and Cory have spent the year volunteering with Project Alive. They have been great additions to the Hunter Syndrome Community Conference planning committee. I look forward to seeing the amazing work they do as board members. Jenn was a long time board member and spearheaded many of the fundraising events in the past, so we are all thrilled to have her return to the board of directors," said Kristin McKay, Executive Director, Project Alive.
New Board Members Join Project Alive

Jeanette Henriquez
Jeanette is mom to Dominic (age 13, affected by Hunter syndrome) and Jasmine (age 18, amazing super-sibling). She and her family have been active in the Hunter syndrome community since the day that Dominic was diagnosed in 2011. Shortly after Dominic's diagnosis, she began hosting "Dancing with Dominic" events which were inspired by Dominic's passion for music. In 2013, she founded the Hunter Syndrome Foundation with the goal of helping to find and fund a cure. To date, her efforts have resulted in raising approximately $200,000 toward research for Hunter syndrome.
She has collaborated with Project Alive since it was founded and is honored to be a board member and continue to serve the Hunter syndrome community. Jeanette believes that raising awareness is the first step to finding a cure for Hunter syndrome. She shares Dominic's story with anyone that will listen. She is also fluent in Spanish and serves as a resource for Spanish-speaking families.
On a professional note, Jeanette holds a Masters in International Affairs from UC San Diego and a BA from UC Berkeley. She has worked for the US Government Accountability Office (GAO) for 25 years and has extensive experience analyzing and reporting to Congress on federally-funded programs. Prior to working at GAO, she worked for non-profits organizations where she served as a program manager and an internal auditor. Outside of work, she enjoys serving her community in North Texas and being involved in activities for both Dominic and her daughter, Jasmine.
Cory Blain
Cory is a wife and mom of two. She lives on a few acres in Michigan that is also home to a dog, cat, and several chickens. She enjoys spending time with her family, being outdoors, adventuring in her son's camper, and is passionate about natural, clean, living. She "retired" from her job of 9 years in optometry a year after her boys received their MPS II diagnosis (2020). The MPS community immediately captured her heart and lit a fire within to advocate, fundraise, and create change.
Cory has hosted several fundraisers, traveled virtually to advocate at Capitol Hill, and has provided public comment to the Advisory Committee on Heritable Disorders in Newborns and Children. She has also attended several in person and virtual MPS conferences.
Both of her boys are involved in a clinical trial. After over a year of traveling weekly to Chicago, treatment was transferred to a closer site to home. With the ability to settle into being home more and not having to do the extra traveling, she found herself desiring to do more within the MPS community. So, when the opportunity to jump on "board" with Project Alive arose, there was no hesitation. Cory is ecstatic to be a part of the team and is excited to see what her efforts can contribute.
Jennifer Hanebury-Estevez
Jennifer Hanebury-Estevez is a mother and a middle and high school English teacher. She grew up in California but moved to southern Florida after earning her bachelor of arts in English from the University of Ottawa in Canada. When Jennifer's son, Sebastian, was diagnosed with Hunter syndrome two years ago, she was inspired by the collaboration of parents and researchers to develop a gene therapy drug that had the potential to save lives. She joined the board of Project Alive because she believes that parents will lead the way towards eradicating Hunter syndrome and other rare diseases. Jennifer's greatest hope is to watch her son grow up to choose his own path in life.
These individuals will join current board members: Sarah Mitchell, Jon Muedder, Aywon Nguyen, Andrew Hoffman, Mario Estevez, Nathan Grant, Kyle Underwood, Julie and Dave Ferrullo, Kim Stephens, and Kristin McKay.
Project Alive would also like to thank those board members stepping down: Katey Hoffman, Jamie Brooks, Jen Carter, Alexa Diaz, and Elizabeth Snarey. Their contributions through the years have been invaluable, and their service to the Hunter syndrome community is deeply appreciated.
Kyle Underwood voted in as new vice president
Kyle Underwood joins the executive committee after serving on the board since January, 2022. His advocacy efforts as a patient with MPS II has made Kyle a well-known member of the Hunter syndrome community. He has particularly shown great leadership in implementing resources for the adult patient population for Project Alive. Kyle has made a wonderful addition to the board and will now make an even greater impact as Vice President. The appreciation of his work was made clear by the unanimous vote for his election. Kyle will work alongside Kim Stephens, President, Julie Ferrullo, Secretary, and Jon Muedder, Treasurer. He is currently engaging staff to implement a new patient resource program set to launch this year. Previous Vice President, Andrew Hoffman, remains on the board and offers Kyle continued support through the new role. Andrew's leadership over the years has allowed for great progress within the organization, and the board is happy to have his continued participation.
Kyle was diagnosed with Hunter syndrome when he was four years old. Throughout his childhood, he encountered multiple doctor appointments, surgeries, and weekly infusions that allowed him to see the healthcare system from the patient perspective. Taking his experience and desire to make a difference in the rare disease community, he decided to pursue educational and professional opportunities where he could be a voice for change.
He earned his Bachelor of Science in Public Health and minor in Business from the University of California, San Diego. Kyle went on to receive his Master of Health Administration from the University of Southern California. Kyle's previous experiences include working in operations, strategy, and business development for both large health systems and emerging telehealth companies. Kyle frequently participates in patient advocacy opportunities, most recently speaking at the Living Rare Living Stronger NORD Patient and Family Forum. Kyle currently lives in Cleveland, Ohio, and works at the Cleveland Clinic as a Program Manager.
Kyle has served on the Project Alive board since 2021 and has worked on several committees including marketing and Hunter Syndrome Community Conference Planning. He also serves on the Rare Disease Legislative Advocates Committee and Young Adult Rare Representatives for the EveryLife Foundation and the Adult Resource Committee for the National MPS Society. Kyle is recognized as a prolific speaker in the rare disease and healthcare leadership community and can often be found sharing his story and raising awareness on stages across the country.
"I'm thankful and honored to be able to serve our Hunter Syndrome community as Vice President for Project Alive. Being a patient myself who lives with Hunter syndrome, I'm eager to build upon the great work already done and bring a new perspective to the table that fosters a spirit of awareness, engagement and discovery that touches all members of our community. I look forward to continuing to advocate for the importance of lifesaving treatment and groundbreaking research to find a cure for Hunter syndrome."
Kyle Underwood
"Project Alive has a long history of being volunteer-led and driven. We accomplish all that we do because of the terrific work of our board and the larger Hunter syndrome community. I am excited to see this work continue with the great additions of Jeanette, Cory, and Jenn. And I can't wait to see all the great projects Kyle has in mind to come to fruition," said Dr. Kim Stephens, President, Project Alive.