Back To All Press
Backpack Health and Project Alive Partner to Advance Hunter Syndrome Research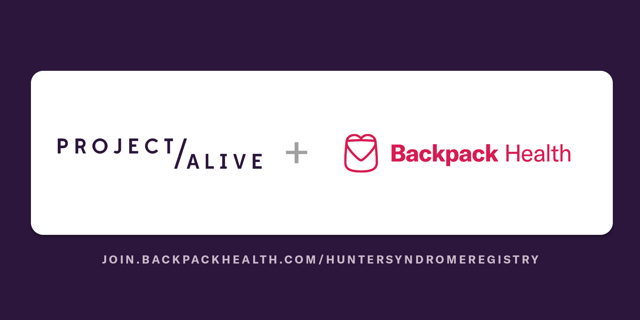 PARTNERSHIP WILL PROVIDE THE SCIENTIFIC COMMUNITY WITH PATIENT REPORTED DATA NEEDED TO ADVANCE TREATMENT AND CURES
Thompson's Station, TN, and Dover, MA​ – August 13, 2019 – ​Backpack Health​ ​and Project Alive​ today announced a partnership aimed to advance research and treatments for Hunter syndrome by utilizing patient reported data. ​With patient consent, the collaboration will provide a repository for aggregated, de-identified data from multiple Hunter syndrome groups in Backpack Health and allow Project Alive to build upon its work in patient outcomes to better serve the Hunter syndrome community.
"Backpack Health's ability to aggregate patient reported data on the care, treatment and daily living challenges associated with Hunter syndrome will enhance our mission of sharing new insights with the scientific community and informing promising clinical research like gene therapy, gene editing, and other treatments,"
said Kim Stephens, President of Project Alive.
Backpack Health's​ data management platform enables patients to store personal health records securely and, with permission, automatically contribute their de-identified information to research groups. The platform will give a comprehensive view into patient needs throughout their journey with Hunter syndrome – from diagnosis to treatment and beyond – ensuring that the patient is the central focus through every step of therapy development.
"Patients and caregivers often recognize aspects of rare diseases before clinicians and researchers," notes Melissa Hogan, who will lead Project Alive's efforts in patient outcomes. "We are excited to collaborate with Backpack Health in our efforts to capture the unique insights of our community, resulting from the gap I recognized when my son first entered a clinical trial over eight years ago. With Backpack Health, the valuable insights of caregivers and patients can now be more fully integrated into the scientific advances in Hunter syndrome."
Backpack Health's health management tool empowers the Hunter syndrome community by allowing them to control their health information. The mobile platform ​provides patients with the ability to ​store personal health records securely on any device with the ability to translate, share and transport all data.
"We are thrilled to further assist patients with Hunter syndrome by partnering with Project Alive and supporting the community's efforts to promote research, assist industry in the space, and enhance awareness about this rare disease to the scientific and medical communities, as well as to the public," said Jim Cavan, Founder and CEO of Backpack Health. "Our focus on patient empowerment via health data makes Backpack Health a natural partner in this initiative, and we are excited to work with Project Alive to make a difference for Hunter syndrome patients and their families."
Caregivers of Hunter syndrome patients can join their loved ones to the group by going to: ​https://join.backpackhealth.com/huntersyndromeregistry
Media Relations Contact for Project Alive: Barbara Esteves-Moore Project Alive 615-631-4383 bem@tworoadscommunications.com
About Backpack Health Backpack Health, LLC builds secure, innovative information tools to help people manage their health journey – including wellness, illnesses, injuries, and chronic health conditions. The Backpack Health mission is to make it easy for everyone to access, own and control their health information to support better health care and attain better health for themselves, their loved ones and their communities. Backpack Health provides a platform for organizations to engage patients, collect up-to-date data and build communities around the globe. To assure data protection for its users' information, Backpack Health complies with the EU General Data Protection Regulation (GDPR), adheres to its data protection principles, and participates in the EU-U.S. and Swiss-U.S. Privacy Shield Frameworks. Learn more at​ ​www.backpackhealth.com.
Media Relations Contact for Backpack Health: Elie Klein Finn Partners 929-222-8013 elie.klein@finnpartners.com